Rolled up fabric Pergola
Modular aluminum shade structures with roll-up fabric. Theycan be installed on the wall or ceiling. Sliding system through zip in the guides. The pergola awnings with folding cloth allows you to create coverage of substantial dimensions. We can place modules side by side with a minimum incline of 7 degrees.
XTESA Model
Modular shading structure in aluminum with retractable fabric. Wind resistant up to class 6 according to UNI PR EN 13651 and water resistant. Modules are separately motorized: a terminal bar locks itself during opening onto the electromagnetic hook devices. The electronic control unit tensions the fabric on zip rails, ensuring a perfect tension even with a minimum inclination of 7°. Perimeter closing options with drop screens, zip screens, sliding glass walls. The Xtesa gives you the possibility to retract the front pillars and gutter up to 150cm from the standard position. If the structure has no spotlight lightbars and its overhang is wider than 4 mt, it will be equipped with a stabilizer bar.
HYDRA model
Hydra Modular aluminum shade structure with roll-up fabric. It can be installed on the wall or ceiling. Sliding system through zip in the guides and spring tensioning. Fabric will be made through the union of half heights based on the total fabric height. Possibility of lighting with led strip on guides and box. Possibility of installing a manual box terminal on the front. Motorized operation of the structure only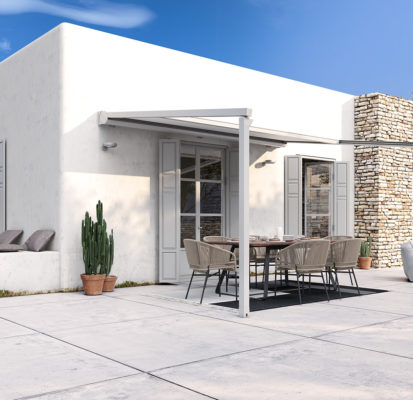 The Hydra awning, with zip, boasts essential lines and a minimalist design. It has been designed to be attached to pre-existing structures, thanks to its perfectly finished wall mount. As none of the hardware is visible, it is the ideal product for adding a stylish finishing touch to your outdoor space.